A carnival in
Roseto Pennsylvania
pulled a
game
called "Alien Invasion" featuring foam darts fired at a painting of a black man wearing an outfit with a presidential seal belt buckle and holding a "health bill" after
1 single person
complained.
The carnival management pulled the game which rewarded participants for hitting the "Alien" in the head or heart with stuffed toys and other prizes and stated that it was a "Big, big mistake in judgement".
What I would like to know is how long the game was running before this one person (who was only visiting Roseto for a reunion) complained.
So, here is the photo: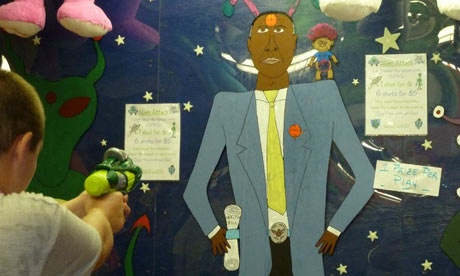 Yes, it was wrong and in bad taste and if they didn't make the connection between the figure and Obama, they are incredibly dense.
Still, it is nowhere hear the "Kill Bush" t-shirts and paraphernalia that are still available and rarely panned by the left.